Memphis Memories
Michael and I had just paid for our cold beers in the lovely, cool and gracious lobby of the Peabody Hotel, when the stranger struck up a conversation with us. Upon learning that this was our first vacation in Memphis, she toasted us with her wine glass and welcomed us with typical Southern charm, and proceeded to tell us a bit about what we might find here. Hers was the first of many such friendly, easy and comfortable chats. That ease and comfort is a major theme of a visit to Memphis, and it proved to be just the salve we needed for our Washington-weary selves.

Midwestern-raised, my husband and I often choose Southern destinations for our vacations. Like Midwesterners, we find Southerners friendly and helpful, and their sense of place easy to fit into and move around in. They accept you for you, and there is a gracious decency and respect that lubricates human relations and interactions, often making for an ease of living daily life that just does not exist in Washington, D.C.

There is much in Memphis to lure prospective visitors, but for us, I confess, the top priority was to see the Peabody ducks. Twice daily, in the morning and at 5:00 in the afternoon, a mallard drake and his four hens are escorted by a uniformed "Duckmaster" from their penthouse dwelling atop the Peabody Hotel, down the elevator, to the lobby. There, often to the music of John Philip Sousa, they "march" on red carpet to the lobby fountain, there to splash, preen and while away the time until they return to their penthouse. Begun in the 1930s , by then General Manager Frankc Schutt, as a lark, the duck march soon became a revered and institutionalized part of the Peabody, the South's grandest hotel. Today, visitors flock to the lobby and wait expectantly to see the ducks arrive, who seem to make the biggest impression on the kids.

The Peabody ducks embody the South's penchant for quirkiness: they seem to say to outsiders, "Well, why wouldn't you have ducks swimming in the lobby fountain of the South's loveliest hotel?" It is one of the things we love about the South: there is this often gentle wackiness that proclaims, "We're us! We're alive! And there is room in life for a little bit of crazyness!" "Let's not take ourselves too, too seriously!"

So, if you let yourself be open to this gentle quirkiness, you then find yourself not so surprised at its many other manifestations: as when you consistently get directions that are always given warmly and sincerely, and also slightly wrong. You soon learn to take this in stride, go around a block (or two or three) until you arrive at your goal. And Memphis' wide, flat streets, so amenable to making lazy left hand turns, make it easy to correct your course. No Washington Beltway road rage here. In earlier years, when so many blacks drove the huge long cars along its streets, their slow, wide turns were known as "Memphis turns."

Where these streets lead offered us other key lures: Memphis' renowned barbecue joints, and her music. For these two pleasures, it helps to have a guide, and Michael and I were fortunate to have my sister Kate join us for that weekend in Memphis. Now a philosophy professor in Michigan, she had done her graduate study and teaching in Memphis, so knew and remembered a few key joints. Although we stopped in at several well and lesser known places along Memphis' famed Beale Street, Kate's tour took us to some outstanding places off of the tourist beaten path.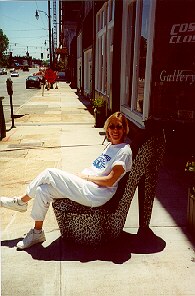 With her to guide us, we soon discovered a vital, and delicious, corollary to Memphis barbecue: it often comes with tamales, covered with chili. Although this might strike some as a culinary quirk (and others as cholesterol overload), we soon grew addicted to this idea, and diligently conducted taste tests wherever we could.
Among the opportunities: the original Huey's in Midtown (there's also one on Beale Street), where you can get a very good sampling of the Memphis tradition of tamales served with (or without) your barbecue. Huey's is also known for its quirky tradition of toothpicks tossed like darts up into the ceiling above the patrons' tables. I tried this in several attempts but just couldn't get the hang of it.
While in Midtown, we stopped in at Shangri-La, the place to check on the Memphis music scene. During a mid-afternoon Saturday visit, we found out that Big Lucky Carter was playing that night at Wild Bill's, and Kate recommended that we stop in later that night. But first, after an afternoon of sightseeing, we were hot, thirsty and in need of some down time. Where else to go but "P & H", a favorite Midtown hangout of Kate's during her grad student days. Short for "Poor and Hungry", it is a welcoming joint: cool, dark, nothing fancy but with pool tables at the back, fans lazily moving the air. At the bar, an ancient metal popcorn popper that looked like a relic from the 1930s shifted crazily and noisily back and forth, making popcorn. We slid into a booth, and continued the research project on tamales, ordering a plate to share. They were excellent.
To be continued......