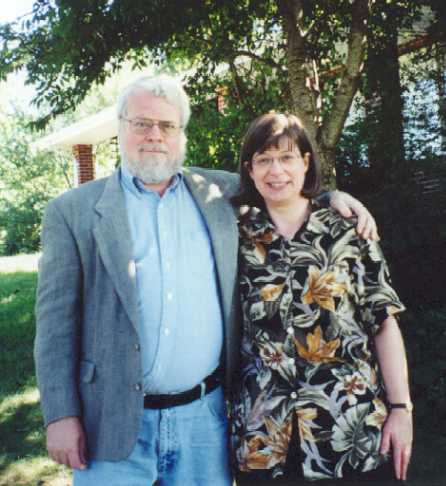 Merry Christmas
from Tam Mehuron and Michael Dunn!
Merry Christmas and a Happy New Year! And a happy 21st Century and Third Millennium to all on January 1! This last year of the 20th Century was a year of family celebrations. In May we flew to Joplin, Missouri for the wedding of Michael's cousin, Linda, to Steve Duncan. September saw not one, but two, grand celebrations for Tam's parents' 50th wedding anniversary. A small family party was held in Lincoln, with a larger reception in Omaha for Ralston and Omaha friends.
In between these two festivities, we finally finished the adoption paperwork: a major accomplishment! The paperwork arrived in Beijing September 19. If all goes well, we will travel to China to get our newest family member sometime next summer! We are excited, and so eager to welcome her into our family!
Another development will help keep you posted on the adoption and other news in between Christmas letters. Earlier in the year we started working on our own website (independent of our various work websites), which will give us an opportunity to post news, photos, updates on the adoption, Michael's family history research and other materials, ranging from our favorite barbecue joints to various and sundry hobbies. It's still under construction -- it will probably always be under construction here at www.tamandmichael.com, and since you're reading this online, you already know that. The website will also contain links to our work sites -- Air Force Magazine, The Estimate, The Middle East Journal -- so our friends and family can keep up readily with what we do for a living as well. Michael hopes to have the draft of his Collins family history up by Christmas day, and much of his family research will go up as he has it available.
On other fronts, one of the things we like most about our neighborhood, the Bailey's Crossroads Area, is its diversity. Adding to that, the year opened with the establishment next door of a Buddhist temple. The new owners of the home converted the separate garage into a temple, which is used for Tet celebrations and other family gatherings. We so enjoy the proximity of the temple to our Catholic church--a rich mix! (The neighborhood mosque is just up the road on Munson's Hill, where Jeb Stuart spent September of 1861 keeping an eye on Union lines, which were sort of our back yard.)
No overseas travel this year -- China will be our major expected trip in the coming year though we might get a Middle Eastern invitation as well -- and because of the trips to Missouri and Nebraska, only a few longish weekends in Virginia and North Carolina (one long weekend got just over the South Carolina border), but nothing more distant. Our barbecue research continues apace, and the De-Yankification of Tam season.
We could tell more stories, but we're also putting some of our better travel stories, barbecue reviews, and other such on the website. So we won't make you read a longer letter, but invite you to drop on by for more if you're interested. And we wish you a happy new millennium, and a wonderful holiday season.