One of the Last Great Dairy Queens
(Salisbury, North Carolina)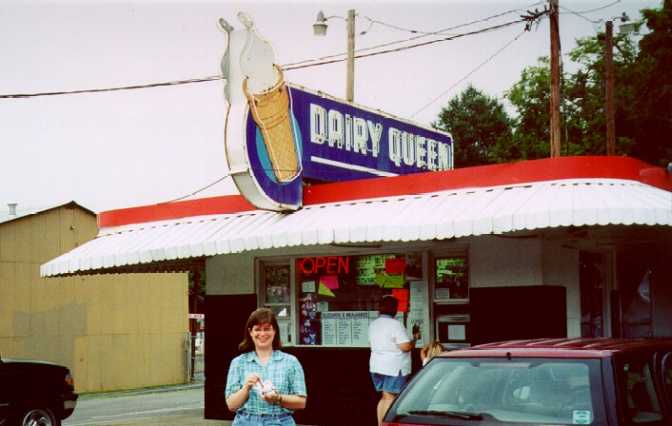 Remember the old-style Dairy Queens? Before the "Brazier" places with indoor seating and hamburgers and what not? When they just sold ice cream/ice milk through a walk-up window? A real Dairy Queen, in other words, not a fast-food franchise with some dairy products added? The sort of place you could hang out on a warm summer night, eating in your car or leaning against it? The sort of place the Dairy Queen franchise people seem to have devoted decades to rooting out and replacing with the indoor Brazier places?

We know where you can still find one. Salisbury, North Carolina is a pleasant mid-sized Piedmont city 30 miles or so northeast of Charlotte and only 20 miles or so down the road from Lexington, the barbecue center of the universe or at least of central North Carolina, if that isn't redundant. Salisbury is an old colonial town, where the old "Great Philadelphia Wagon Road" from the Shenandoah Valley down through the Yadkin country of Carolina crossed the Great Trading Path which ran from Petersburg, Virginia to ... oh you don't need to know all that stuff. Salisbury is an old town, was at the center of a lot of the later Scotch-Irish settlement of western North Carolina, South Carolina, Tennessee and points west, and is thus a prime destination for genealogical researchers. It's where Andy Jackson studied law. It's also a pleasant town with big old houses, historical connections, and various sites. (It's also Elizabeth Dole's hometown.) And of one of the biggest Confederate prisons. And train lovers should not miss the Spencer shops, in the adjacent town of Spencer, once the Southern Railroad's main shops between Atlanta and Washington, but today the North Carolina Transportation Museum (but really mostly trains).

Anyway, if you head west from the center of Salisbury's downtown on Innes Street, the main street out of town to the west (actually northwest), you can't miss the Dairy Queen on the right, as you pass through a somewhat more industrial/residential part of town.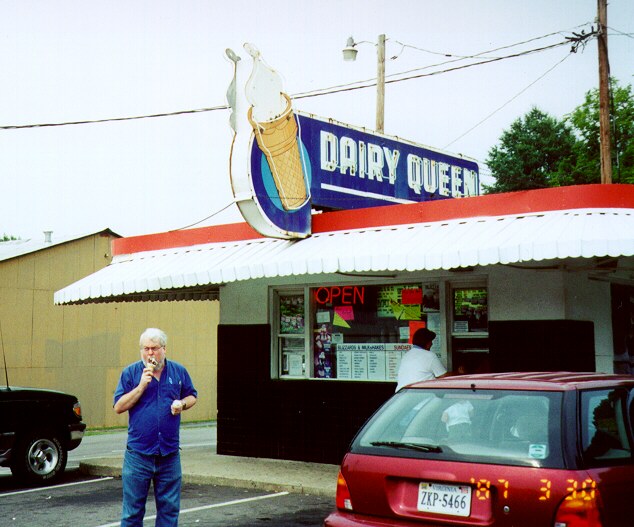 We first encountered it several years ago, one evening while out searching for barbecue; it was packed, with all ages, black and white, on foot or by car. More recently we were able to confirm that it was still in operation -- the Dairy Queen franchisers haven't made them go Brazier -- on a July afternoon in 2000. It was about 4:30 or 5:00 pm, and while that may be more teatime than ice cream time, we were not the only patrons there during that time.
The pleasures of an old-style Dairy Queen may be lost on younger generations who never knew outdoor summer nights at the Dairy Queen, since Dairy Queens have become mostly indoors these days and the few surviving walk-up ice cream shops are usually off-brand or local. But for us, the experience of enjoying an ice cream cone from a straightforward, ice cream only joint, on a hot summer night in North Carolina, is truly one of life's simple pleasures. It pleased us greatly, and reassured us, to know that it continues!