Welcome to Tam's Page!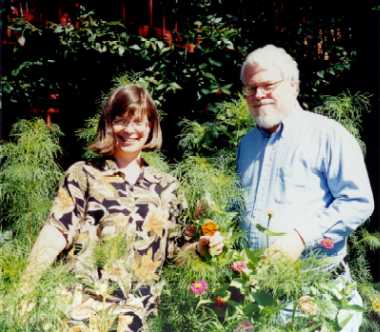 Back to Tam and Michael's Home Page


Hello! Let me introduce myself: I'm Tam Mehuron, the other half of this web site creator team. In my day job, I'm an editor for AIR FORCE Magazine, a job that uses my organization skills, my editing skills, and research skills to compile and produce the annual USAF Almanac, as well as an annual Space Almanac. I generally enjoy my work, and I really enjoyed the opportunity to get creative this Fall with a photo story on Robert Soubiran and his photos of his comrades, their escapades, aircraft and mishaps in the Lafayette Escadrille during World War I. (Note: the link requires Adobe Acrobat Reader.) When I'm not at the magazine, I really enjoy being creative in my garden in our back yard. Every year I grow tomatoes along with various other vegetables and several different types of flowers. I like to mix the tomato plants, and I try to vary their position in the garden each growing season. I really believe in soil preparation--that's really the key to a good crop, I think. So I get fresh topsoil and compost and bone meal to work in the soil before planting.

I also like to plant a "pepper patch" for my husband, Michael, who is a pepper aficianado! Jalapeno, Habanero, Portuguese, and any other type I can get my hands on usually get planted each year. This last summer the peppers didn't do so well, mainly because of all the rain and the cooler temperatures. But the tomatoes loved the weather! The last couple of summers I have also planted Kentucky "pole beans", and have enjoyed them. This last summer I also put in a basil plant and a chive plant. The basil plant proceeded to overwhelm that entire corner of the garden, again because of the generous rainfall.

The flowers also fared well: I sprinkled an area formerly used for tomatoes with California giant zinnias and other flowers, and used bright cheery yellow marigolds as border around the entire garden. They also help to protect the tomato plants from critters! Geraniums in two pots add some color to an easement in the corner of the yard.

There's so much that I enjoy about gardening: I love to dig in the earth, I love the smell of it. I love the sense of discovery and adventure: I have found an arrowhead and a railroad spike (along with plenty of worms!) as I work the soil. I also love to eat what I plant! Michael always looks forward to bacon, lettuce and tomato sandwiches in the summer!

I also love to cook, especially when I have the energy! It makes me happy to put together a fresh, healthy and delicious meal. In the course of our marriage, Michael has gotten me to use spices much more liberally, and the results are tasty! Just writing about my garden, and cooking, makes me happy! It reminds me of the joy of last summer's garden, and makes me anticipate the new season!

Know what else makes me happy? The thought of becoming a Mom sometime this coming year! We are in the midst of an international adoption process, and will travel to China probably sometime next summer to adopt a new member of our family! We have requested someone from six months to fifteen months old, but we may get a two or three year old! Now that would be an experience in taking the "Parental Plunge!" So we'll see what happens! One thing's for sure: if all this works out, next Christmas will be far different than this one!
Last night we went to a Christmas party hosted by a couple who have also used the adoption agency we are using, and several couples showed up with their new adopted precious ones from China. Many of the babies were about one year old, or just slightly older, so it gave us a good sense of what we might expect from that age. One couple had been back from China just three weeks, and it was great to hear about their experience and impressions, and see just how well and quickly the three of them adjusted to their new life together. The babies generally look smaller than their American counterparts, but they are just as lively and sparkly! Many of the babies were curious about Michael's beard, and he good-naturedly let them touch and pull it. And it didn't come off! Amazing! The joy of the new parents and their babies was infectious, and we had a great time talking with the parents, and watching the babies! It's hard not to be happy around them. It helps me put the arduous and frustrating paperwork process in perspective, and look forward to our own experience.

We finally finished our adoption paperwork in September, and on September 19 it arrived in Beijing! Hurray! For more information about that experience, and where we are in the process, click here.
Once we do get our little one home, we look forward to sharing so many things with her, and helping her grow and develop. We live in a neighborhood replete with ethnic richness, close to our church whose members are their own United Nations, and close to shops and restaurants of Latino, Thai, Chinese, Vietnamese, Lebanese, Palestinian, Greek, Egyptian and Mexican fare--and wares. We want her to be as comfortable in the Thai grocery store as in the Safeway. (Just watch: we'll get somebody who will ONLY eat McDonald's Happy Meals! What will happen then to our high-minded parental intentions!!)
Since Michael and I both come from a history academic background, we also look forward to introducing her not only to her Chinese heritage, but her American heritage as well. We both feel very blessed to be Virginians by adoption, and we love our adopted state. We have travelled to nearly every corner of it, and relish its diverse geography and its rich and accessible history. From the Blue Ridge and Allegheny mountains in the west and southwest, to the flat coastal Tidewater area, to the soothing roll of the gentle Piedmont, Virginia has so much to offer in its culture, history, and cuisine. Visit our Virginia Pages.
Especially cuisine. My motto is, "By their foods you shall know them." My other motto is, "The way to a state's (or region's) heart is through its stomach." That said, let me just offer here a few comments on a favored Virginia place: The Pig and Steak, nestled in the rolling hills of beautiful Madison County, is, in my estimation, the best place for Barbecue in the area. Slow-cooked at least 12 hours in the wood smoker out back, the meat is juicy and tender. There is a choice of regular barbecue sauce and a hot version as well. Each plate comes with a literal mountain of french fries, and these are the addictive, slender, crunchy kind. I like to dip them in the baked beans (which are also delicious!) instead of plain old ketchup. The restaurant itself is a dark-wooded building, rather non-descript and easy to overshoot, especially if you have a toddler who has spied the MacDonald's at the end of the road, at the junction to Route 29. (For more information on Barbecue places, click here.)
Madison itself is a pretty little mountain town. One lovely way to reach it (especially if you are coming from Edenton's Stony Creek, having fed the ducks and geese there) is to travel over the mountains through Sperryville and turn on 231. I have dubbed this "the pretty road", and indeed it is. It winds through beautiful Virginia countryside, with the Blue Ridge Mountains on the right, dominated by Old Rag. This is a beautiful, soothing road trip, and always puts us in good spirits. Eventually, 231 drops into Madison, and you can top off the day with a wonderful barbecue dinner.
Of course, Madison is also in the heart of Civil War territory. Nearby is the historic town of Warrenton, and further down Route 29 is the newly marked Battle of James City, a little known Civil War battle that managed to take a couple of thousand casualties. To get there, drive south on Route 29 until you come to the town sign of "Leon", next to an auto junkyard. Go up the mountain, where you will see a road sign marked "631". Turn left there and follow the road to a little pullover, where there is apparently a new sign marking the site of this battle, with an explanation. (We have not been here ourselves, but just heard about this newly-marked site from our tree man, Tim Corbin, who lives in the Madison area, and is an avid Civil War relic hunter.) We intend to visit the James City battle site very soon.
As you may have guessed, my husband and I are road hounds, too. We love to travel, especially when the trips take us to various fascinating historical sights, help us understand the area geography and culture, and as mentioned earlier, food. We've greatly appreciated the opportunities to see various parts of the South outside of Virginia, as well as trips taken abroad. For some of our travel accounts, click here.