Michael Collins Dunn, Ph.D.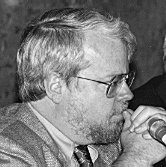 Biographical, Professional, and Personal
Welcome to the personal website of Michael Dunn and Tam Mehuron. This page introduces Michael. For Tam, please click here. For our daughter, Sarah Grace Dunn, click here. This site is personal and intended primarily for friends and family; the various publications we edit deal with our more professional interests. For links to those sites, return to our homepage.
---

Biographical
Michael Collins Dunn, who with his wife Tamar Ann Mehuron is the host of this site, lives in the Northern Virginia suburbs of Washington, DC and currently serves as Editor of The Middle East Journal and Editor/Publisher of The Estimate. Dr. Dunn was born 17 September 1947 in Joplin, Missouri, the son of Howard Collins Dunn and Sarah Agnes Jones Dunn. He is an only child.
Educated in the Catholic school system at Joplin, he attended Georgetown University's School of Foreign Service, receiving a Bachelor's degree in 1969. He subsequently took a Master's Degree and then a Ph.D. in Islamic History at Georgetown, completing the latter in 1975. In 1972-1973 he lived in Cairo studying Arabic through the Center for Arabic Studies Abroad (CASA). In 1976-1977 he taught at Utah State University, and in 1977-1978 he returned to Cairo for postdoctoral research as a Smithsonian-funded fellow of the American Research Center in Egypt.
Though his degree was in history with a specialization on the early Islamic period, Dr. Dunn's 1978 return to the US coincided with the onset of the Iranian Revolution, and in subsequent years he made a career dealing with the contemporary Middle East. During the early 1980s he worked for a newsletter and magazine group dealing with political and defense issues in the region, and in 1988 left to become a consultant. Beginning in the early 1980s and continuing through 1991, he served as an Adjunct Professor at the Georgetown University Center for Contemporary Arab Studies, teaching courses on The Development of Islamic Theology and Defense and Security Issues in the Middle East.
In early 1989, with then business partner Julia Ackerman, he founded The Estimate, a newsletter now (1999) in its 11th year of publication. Dr. Dunn has also written for a wide variety of other publications, and has frequently appeared in the electronic media, both radio and television.
In 1998 Dr. Dunn was also asked to become Editor of The Middle East Journal, the oldest academic quarterly dealing with the contemporary Middle East. Today he edits both the Journal and The Estimate.
In 1993 Dr. Dunn married Tamar Ann Mehuron. They live in Northern Virginia. In July of 2001, they adopted their daughter, Sarah Grace Dunn, from China.
---
In 1989 Dr. Dunn co-founded The Estimate with business partner Julia Ackerman as a newsletter dealing with political and security intelligence of the Middle East and East Asia. When Ackerman left in subsequent years, it concentrated exclusively on the Islamic world and its neighbors. Dr. Dunn continues to produce The Estimate every two weeks. It is a 12-page newsletter covering a region extending from Morocco to Kyrgyzstan, with a four-page Dossier on a given subject in each issue.
More information, along with the table of contents and an article from the current issue, are available at The Estimate home page. Subscribers also have full-text access to the current issue and searchability for past issues.
---
In 1988 Dr. Dunn was asked to take over as Editor of The Middle East Journal in addition to editing and publishing The Estimate. As the quarterly publication of The Middle East Institute, the Journalbegan publication in January 1947 and is the oldest academic quarterly dealing with contemporary affairs in the region. An interdisciplinary journal dealing with the Middle East since 1945, further details are available at the Journal's website.

---
Other Professional Background

---
Teaching
Media
Languages
Travel
Academic Conferences Etc.
---
Teaching

Dr. Dunn was Assistant Professor of History at Utah State University in 1977-1978 and Adjunct Professorial Lecturer at the Georgetown University Center for Contemporary Arab Studies in 1983-1991. He has also lectured widely at colleges, universities, and other fora around the United States on Middle Eastern issues.

---

Media

In addition to The Estimate and The Middle East Journal, both of which he edits, Dr. Dunn is on the Board of Advisors and a regular contributor to Middle East Policy, a regular contributor to Armed Forces Journal International on Middle Eastern issues, regular author of the Middle East annual assessment for The Navy League's Sea Power Almanac, and has also written for or had his work reproduced in Air Force Magazine, The Journal of Palestine Studies, Middle East Insight, The Christian Science Monitor, Washington Post Book World, The Washington Times, The Washington Quarterly, The Economist Intelligence Unit, Le Monde, Jeune Afrique, Middle East Affairs Journal, al-Khalij, al-Ukaz, al-Watan al-'Arabi, and Demokratsia.

Electronic Media appearances have included NBC Today Show, ABC News Nightline, PBS McNeil-Lehrer News Hour, CBS Nightwatch, CNN (numerous programs over many years), C-SPAN(numerous appearances on several programs), Dubai television, CBS Telenoticias (Spanish Language), Arab Network of America television programs, Voice of America(several services), Radio Free Europe (several services) and a wide variety of US, British, Australian, Canadian and other English-language radio stations.
---

Languages

Arabic: Excellent reading ability in Classical, Qur'anic and Modern Standard. Onetime excellent spoken facility in Egyptian dialect; today serviceable but rusty. Comprehension of other central dialects, some Tunisian dialect.

Other:Excellent reading knowledge of French and Spanish, rusty knowledge of German. Spoken abilities limited. Some familiarity (tourist use, road signs, etc.) with Hebrew and Farsi.

---

Travel

Dr. Dunn has traveled extensively for both academic and journalistic professional reasons throught the Arab world from Morocco to Oman, studied and lived for two years in Egypt, has made many trips to Israel and the (now) Palestinian Authority, and has met and/or interviewed numerous political leaders and industrial officials of the region, including several heads of state.
---

Academic Conferences Etc.

Dr. Dunn has presented academic papers to conferences held at the following institutions:

The Middle East Institute Conference (several times)
The VMI Middle East Policymakers' Conference (several times)
The Middle East Policy Capitol Hill Symposia (several times)
The Georgetown University Center for Contemporary Arab Studies Annual Conference (several times)
The National Defense University (several seminars)
The Middle East Studies Association Annual Conference
The American Research Center in Egypt Annual Conference
The Naval War College, Newport
The Navy Postgraduate School, Monterey
Conference on the Gulf War at Rutgers University

Also, presentations have been made at specialized conferences held by the Defense Intelligence Agency, the John F. Kennedy Special Warfare Center at Fort Bragg, and a variety of small colleges and universities.
---
Michael's Genealogy Hobby


Michael has been engaged in tracing his own family tree since high school, and Tam's since before their marriage. He is now working on a detailed history of his Collins line, and hopes to do the same for the Dunns and for his mother's side in time. His working database and other material will be gradually made available online. If you are interested in either Michael or Tam's ancestors or relatives (preferably if you are or think you may be one), please go to their Family History site. You can learn much more about it there. If you're curious about just why Michael does this (lots of people seem to find it very strange indeed), you might check out his essay (in progress), called Why I am a Genealogist.


---
Other Interests
Under Construction
We'll be telling you more about our other interests soon.
---
We'll also be adding some of our favorite links. Please give us a bit of time.
---

Another Chance to E-Mail Michael
Back to Homepage
The Estimate
The Middle East Journal
Tam's Page
Back to Top