Tam Mehuron's, Michael and Sarah Dunn's Homepage
This homepage is intended to assist you in navigating to our presence on the web. Our old homepage (intact after the menu below:
click here to jump
) had not been updated for years because of the pressure of our jobs, Sarah's growing up, and most of all our concern about posting photos of Sarah that might invade her privacy, given that there are those who might abuse our openness. For those who like the old homepage,
just go below
. You can quickly reach our
blog
,
Flickr
and
YouTube
sites (restricted) and various discussion groups are available from the
table
which follows. So are our job sites.
Welcome aboard.

NAVIGATION MENU
(OLD HOMEPAGE BELOW)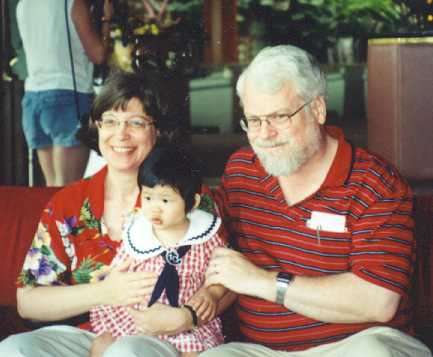 Welcome to
Tam Mehuron's,
Michael Dunn's and
Sarah Grace Dunn's
Website!





Thanks for coming to visit! Welcome to Our Web Pages!
For the log of our visit to China to get our daughter, click here!



For More go to Sarah's Home Page!
Photos of Sarah's First Christmas!
Photos of Sarah's First Thanksgiving!
This is the home page of Tam Mehuron and Michael Dunn
and now of Sarah Grace Dunn! This website is intended mostly for our families and friends. These pages are intended to give friends and family an easy way to keep up with our news, the adoption process, family history research, family news, travel notes and photos, though it also provides links to our professional websites as well. Welcome.


---
---
---
Who We Are
Tam Mehuron works as Associate Editor of Air Force Magazine and Editor of the annual Air Force Almanac. Her husband, Michael Collins Dunn, has been Editor of The Middle East Journal since 1998 and has also been Editor and Publisher of The Estimate since 1989. For more on us personally click on our names. For more on our professional backgrounds, click on our names for resumes, or on the names of our publications to be linked to those sites.
We have set up this home page in order to allow our friends, relatives, and others to get to know some of our interests and personal news beyond that available on our professional employers' web sites. You will find a number of our favorite links here, and since Michael has spent over 30 years as a family historian/genealogist, a lot on that subject as well.
---
---
Family News etc.
Under Construction
Eventually, we'll be putting personal family news up here, for our own relatives and friends: others who have stumbled on the site, we ask to honor our privacy. For now, we've put up our Christmas Letter for 1999 , our Christmas Letter for 2000 and now, our Christmas Letter for 2001. More of these kinds of things, and other updates, will eventually be found here. So will some of our other interests, which will also be linked from our personal pages. For one such personal interest page, see our Virginia page, now under construction.
Back to Top
---
Our Genealogy Pages


Welcome Page for our Family Histories
(Links to Data from Our GEDCOMs: Much more to come)
Michael has been working on his family history since high school; he now also pursues Tam's ancestors as well. For those of you interested in this aspect of our family, please go to our family history welcome page by clicking here.

Back to Top
---

Our Virginia Page


Under Construction
We spend a lot of time exploring our current home state, Virginia; we've put up an under-construction page providing some interesting links relating to it. Click here to visit it.
Back to Top

---

The Search for Barbecue


Under Construction


Last, but by no means least, the noble pig. Scientists have found traces of a mastodon barbecue in southwestern Virginia, and while Virginia may not equal its neighbor to the south, North Carolina, we are dedicated to finding the best barbecue. Our barbecue page proclaims the primacy of pulled pig, along with links and some reviews. (Yes, it's an odd taste for a Middle East specialist, since neither Israel nor the Muslim world have decent pulled pork places.)
Back to Top
---

Travel


Under Construction


When we travel, interesting things often happen. We'll be putting up little reminiscences, anecdotes, and tales from our various wanderings. A handful of reminiscences, with pictures, are already up. (Don't miss "One of the Last Great Dairy Queens"). Click here to read our gradually growing travel site.
Back to Top